This year we have again put together an unsurpassed package with a variety of special Christmas and winter entertainment. From Santa to Dickens magician and from a White Angel to an a cappella Christmas choir. We have something for everyone and at competitive prices. We will be happy to send you a separate price overview on request.
SNOW
What is winter without snow? Exactly! With the 3 giant snowballs from SNOW it is always a winter party. They look like 3 huge snow-white balls but wait for them to come alive. First they spread an enchanting light and then hop around in the best mood. And look: did you know that the inside of a snowball is a glittering starry sky? Where does that cozy winter scent of orange and cinnamon come from? And if they turn out to be a giant snowman together, the surprise is complete. SNOW is illuminated mobile winter theater with synchronized lighting technology, cheerful play and stilt theater – on jump-stilts! – and a beautiful fairytale effect. Trio with 2 x 45 or 3 x 30 minutes in 4 hours.
Winter wheel of Fortune
Juggling with Christmas wreaths, stars, snowballs? The Dutch Juggler juggles everything this winter! And if his "backpack" turns out to be an adventurous, interactive Wheel of Fortune, with prices, music and lights, the party is complete. Take your chance, spin the wheel, and win a fortune …………. or not… ..game over… but always a new round with new opportunities. In 4 hours with 3 x 30 minutes of show or as a walking act.
 
Winter Wish
Christmas wishes in any language with dance and music playing from the costumes. A winter stilted duo with glitter and shine and illuminated costumes with 3 x 40 minutes in 4 hours.
Holy Angels
With a smile, the Angels give you their Christmas and New Year greetings. They enchant the public, the streets, squares and your Christmas market. With their gossamer wings spread, they move almost timelessly and floating, like an angel …. A bright beacon in the dark days of Christmas and the New Year. New: in white, black, red and gold versions. 1 to 4 players with 2 x 45 or 3 x 30 minutes in 4 hours.
Say it with a Christmas card
Do you want to send someone special a Christmas wish, invite someone to a Christmas dinner, have you just met the love of your life? "Say it with a Christmas card" is a sympathetic mobile act with a message. Her skirt consists of more than 50 Christmas postcards with beautiful texts. You can choose one of them. You can write your card on her writing table that she carries on her stomach. She conjures a stamp out of her hat and the card is posted in the mailbox on her back. They will be delivered! 4 x 30 minutes in 4 hours mobile on roller skates!
Q-Trix
Familiar with the ancient magical secrets, he creates modern magic. In a subtle way, this master of magic knows how to amaze and dazzle the viewer in a world full of surprise. This year in a special Christmas and Dickens version. Ask about his fire tricks! Walking act with 3 to 4 x 30 minutes in 3 to 4 hours.
Regina Bianca Veneziana
These radiant chic appearances in Venetian winter white with 1 to 3 players, on stilts or not, receive your guests, pour champagne, dance and present your winter event with glamor. 2 x 45 or 3 x 30 minutes in 4 hours.
Rendez vous
A lonely Christmas … .. abandoned, hung like an old coat, she hangs sadly from a lighted lamppost. Below her a slowly melting pile of snow. She talks and mumbles a bit in front of her… until music sounds and she sings straight from her heart "It's going to be lonely this Christmas without you"… You won't leave her behind, will you? An interactive, moving and funny performance and floating living statue. 2x sets a 60 minutes in 4 hours.
Trio WinterTails
The 3 Tumble Tails meerkats woke up from hibernation, packed their bags and sneaked out of the zoo. But how do you find food as a hungry meerkat when you are always fed? By chasing your nose! The Tumble Tails have sharpened their acrobatic skills and are trying to scrape their meal together. But don't be surprised if they just take a short nap on a cold winter day. 3 x 30 minutes in 4 hours.
Duo WinterTails
And now the last duo of meerkats also has escaped! An unexpectedly surprising act. They open their legs to share warmth. Let these beautiful animals melt your heart and make your own winter a little warmer. Everyone is embraced and given "Free Hugs" for Christmas and New Year. 3 x 30 minutes in 4 hours.
Maria
The classic eye-catching statue of Mary with Child. Do you also suddenly hear the Ave Maria sound? 3 x 40 or 4 x 30 minutes in 4 hours.

SnowGlobeCircus
Go on a journey of discovery in this family adventure. Two fortune seekers find treasure in a mysterious ice cave, but are enchanted by the Winter Elf. In the transparent giant globe of 5 meters high, three artists surprise you with a floating illusion, exciting acrobatics, virtuoso juggling art and a ring-trapeze act. Do they find their Happiness? And will the Elf fulfill all your Christmas and New Year's wishes? Trio with 3 x 30 minutes of show.
Strolling for Gold
The Rolling Amazons are completely in Winter and Christmas atmosphere and can perform both as mobile animation and as show act. In Strolling for Gold, the 2 to 3 Amazons put down a beautiful choreography on roller skates with original music and beautiful costumes. With 4 x 30 minutes of mobile animation and dance final in 4 hours.

Angel & Demon
The Devil also wanders at Christmas and in winter. And then… finally! He meets his flaming angel. Fire!! A devilish choreography and fluttering angel wings in a joyful, walking spectacular fire act. Duo with 2 x 45 or 3 x 30 minutes in 4 hours.
Child of Light & Guide of Light
Just arrived on Earth is the CHILD of LIGHT, the brand new light princess from space. An unparalleled high-tech LED frame act as a mobile light performance and living work of art in one. She brings you light, joy, boundless amazement and an explosive light show. After the finale, only her big heart remains blinking red. The GUIDE of LIGHT is a high-tech walk-act, a mobile light-performance and an ever cheerful and naughty playing giant all in one! A source of light comes at you and suddenly shines in radiant blue. A giant with friendly beaming eyes. A light performance that culminates in a firework of flash lights to music. A sparkling act with WOW factor! Solo or duo with 2 x 45 or 3 x 30 minutes in 4 hours or with a short opening act or performance of 5 minutes.
Winter-Queen & King
After a long journey from the snowy landscape, these twinkling lights emerge in the dark days. With lace collars, pearls and lights, this Winter-Queen & King are parading jauntily. They impress the audience with their courtesy during twinkling Christmas melodies. Duo with 3 x 40 minutes in 4 hours.
The Girl With The Sulfur Sticks
All people have done their Christmas and New Year's Eve shopping and are all cozy at home. However, the girl sits shivering outside to sell her sulfur sticks. She gets so cold that she brushes off a stick herself to feel warmth for a while and then… .. In the act a voice tells the famous fairy tale. 3 x 40 minutes in 4 hours.
Penny for your Thoughts
A stone, romantic winter lady writes Christmas and Winter poems to her audience. If you put a coin in the copper groove … ping … she comes to life. Hey! Look! I get a note! (you will receive a poem written on the spot ánd get your coin back). 3 x 40 minutes in 4 hours.

Ice queens
These beautiful white luminous appearances on stilts make something special of any Christmas gathering or winter event. The Ice Queens can also be booked with snow-white musicians! From 1 to 5 players with 2 x 45 or 3 x 30 minutes in 4 hours.
Dickens Couple on stilts
The latest facts and the juicyest gossip: Mr. and Mrs. Jones know where to find them! Walking gracefully, they stroll happily through the streets. On high stilts, this stylish nineteenth-century couple is out for bubbling chats with the audience. Duo with 3 x 40 minutes in 4 hours.
Top-Chef and the Christmas dinner
Your Top-Chef is preparing your Christmas dinner. A candlelight dinner with tips for at home, a tasty alternative to the turkey, delicious wine à la Chef. The Chef will close the show with a fiery ending and let everyone go home with a warm feeling. A show of 15 minutes, possibly supplemented with 30 minutes of animation juggling along the tables.
Frozen
Due to the shape of the pedestal, the costume and the absolute discipline of the performer, this statue is indistinguishable from a real statue. The figure on the pedestal is motionless at first. Every now and then she comes alive with her dancing movements. Frozen is icy, quiet, abstract, fresh, graceful and an absolute delight to the eye. And… you can hear her melting! With 3 x 40 or 4 x 30 minutes in 4 hours.
Christmas Marionette
The Christmas puppet is a combination of dance, theater and pantomime, in which interaction with the audience plays a central role. When the stilt-walker opens the mobile box and pulls the strings, a life-size Christmas woman puppet appears. Duo with 3 x 40 minutes in 4 hours.
The Winter Ladies
This sparkling duo only goes for one thing: More Christmas fun in life! With the help of their different Christmas balls, the public can choose between, for example; The "sweet Christmas ball" (something to eat), the "performing Christmas ball" (a small performance as in a Christmas song) and not to forget the "remembrance Christmas ball" (Polaroid photo). A Christmas animation for a grand Christmas party! Duo with 3 x 40 minutes in 4 hours.
White PeaCockettes
These elegant ladies stroll and flirt in all their splendor. And with illuminated costume and headdress and atmospheric musical sounds.
Dickens Magic
Nostalgic magic with a modern twist … Johan Janssen's amazing table magic suits every memorable occasion. Mobile, indoors or outdoors 4 x 30 minutes close-up magic.
Mechanical Santa
Cheerful old songs sound from the box on the slide . Suddenly Santa comes to life and walks in mechanical movements towards the surprised child. He opens his box and takes out a surprise … Playing time: 3 x 40 or 4 x 30 minutes in 4 hours.
XMas Bianco
Graceful white angels dance an enchanting Christmas with their outstretched wings. 3 x 30 minutes in 4 hours.
Arbres d'or
These elegant Art Nouveau-like tree creatures are a dazzling sight. Artfully stylized tree figures. The atmosphere is reminiscent of past cool times. Be surprised and seduced by this alienating act that appeals to the imagination. 3 x 30 minutes in 4 hours.

Christmas angels on stilts in illuminated costumes. Also bookable in red costume. Duo or trio with 3 x 30 minutes in 4 hours.
Christmas Glamor Queen
A white enchantment on stilts with illuminated headdress. 1 player, 3 x 30 minutes in 4 hours.
Red Christmas Queen
Beautiful parading Christmas red stilts act. 1 player, 3 x 30 minutes in 4 hours.
White Magical Horses
Mythical white quadrupeds on stilts with lights. 1-3 players, 3 x 30 minutes in 4 hours.
The Lightjuggler
In the dark days of Christmas and winter, the Dutchjuggler brings the light to you! With his luminous objects, he will amaze and entertain your audience. This is a walking act that can be performed at any location between the audience and as a short stage act. Duration: 1 to 3 x 30 minutes + 1 x short show act.

Glass engraver
Alie has been engraving traditionally by hand on glass for 30 years. From a glass Christmas ball for the tree to a beautiful glass with your name on it! Inside or outside, she designs and engraves your wishes in front of you and you receive a beautiful gift. 4 hours almost continuously.

Walking Christmas tree
A human tree with lights, balls and wooden cross. Two of its branches can even shake, tickle and wave hands. Moves a bit woodenly but still lasts 4 x 30 minutes in 4 hours.
The Snowmen
The mischievous snowmen love to have fun. They make a happy mess with each other and the audience. 4 x 30 minutes in 4 hours.
Scrooge
This Scrooge walks around like the miser he is. The Christmas atmosphere is hard to find. Or maybe…? Running time: 4 x 30 minutes in 4 hours.
Spiral Santa
Santa Claus with a happy twist. Together with red nose reindeer Rudolf, he brings joy and fun everywhere in 4 x 30 minutes in 4 hours like an unguided projectile.

Winter Wonder Dreams
Pearly white winter parade with Angels, Winter Fairy, stiltwalkers, cart and bicycle. Different compositions possible. 3 x 30 minutes in 4 hours.
Father Time
Father Time is a striking character with his long white beard. With the hourglass and clock at hand and dressed in a long robe, he strides with dignity between the audience and sometimes turns into a wax figure. An animation in style! 4 x 30 minutes in 4 hours.
Origami Theater
A fascinating Christmas scene unfolds before the viewer's eyes. Using origami folding techniques, Marieke brings every piece of paper to life. Continuous short performances of a few minutes in 4 x 30 minutes in 4 hours.
Dickens Narrator
This distinguished storyteller walks around in Dickens costume, spontaneously bursting into stories. He plays and improvises in interaction with the audience. 4 x 30 minutes in 4 hours.
Wish fairy
Fairytale appearances come to the event especially to let the audience make a wish. Big, small, fat, thin, tough or not, no one is overlooked. For extra wish power they conjure up rare wish glitter. Now you only have to wait for the wish to come true. 2 x 45 minutes in 4 hours. 1 -3 players.
The White Pigeons
A beautiful, feminine, graceful and above all striking stilts act. These enchanting snow-white doves of peace reinforce each other wonderfully and fit beautifully into a winter landscape. 2 x 45 minutes or 3 x 30 minutes of animation and as a short dance choreography possible in 4 hours.

Winter angel
The chillingly beautiful Winter Angel welcomes guests with snowflakes. It is surrounded by ice crystals and icicles from which guests can hang their wishes in 2 x 45 minutes in 4 hours.
WinterDivas
These white winter divas shine like snow crystals. White and serene, they bring the magic and enchantment of winter to every occasion. Icicles of blue light hang from their twinkling hats. They bring snow and ice but warm the audience with their charms. On request, the little fairy Twinkel accompanies the Winter Divas. With the cheerful music she brings along and her playful character, a smile quickly appears on everyone's face. 1 to 5 players with 2 x 45 or 3 x 30 minutes in 4 hours.

Santa and Christmas cart
Beautiful winter parade with Santa, Angels and cart. Different compositions possible. 3 x 30 minutes in 4 hours.
The Jolly Walkers
They are also on the road again in the winter period. The Geese fanfare travels through town and country with drum rolls, whistles and jokes. This unique and astonishing combination of people, music and goose delights big and small when they march past as true fanfare.
Based on the age-old tradition of geese herding The Jolly Walkers bring this original goose fanfare together with purebred Toulouser geese in 4 parades of 20 to 30 minutes in 4 hours. During the Christmas period, the Jolly Walkers can also perform in traditional shepherd costumes.
Santa in the Sky
Duo of Santa Clauses on stilts. 4 x 30 minutes in 4 hours.
Animation Santa
This cozy Santa brings more than just a Christmas atmosphere: he jokes, plays all kinds of tricks and juggles! 4 x 30 minutes in 4 hours.

The Winter Horse
This authentic winter horse will be back in the country around Christmas. The winter horse is ridden by an enchanting winter princess. With her Christmas repertoire she brings light to the dark days before Christmas. Of course the sound has been amplified so that the audience can fully enjoy this. Solo with 3 x 40 minutes in 4 hours.
Solid Christmas
If there is one period of the year that invites you to sing, it is Christmas. The 2 Solid Christmas singers, Judith and Yvonne, have put together an exuberant and atmospheric program for December, ranging from White Christmas and Let it Snow to Feliz Navidad in 4 x 30 minutes.
X-Mas Carols
Atmospheric, authentic, English Christmas Carols that are sung a capella by 8 singers in traditional Dickens costumes in 4 sets of 30 minutes in 4 hours.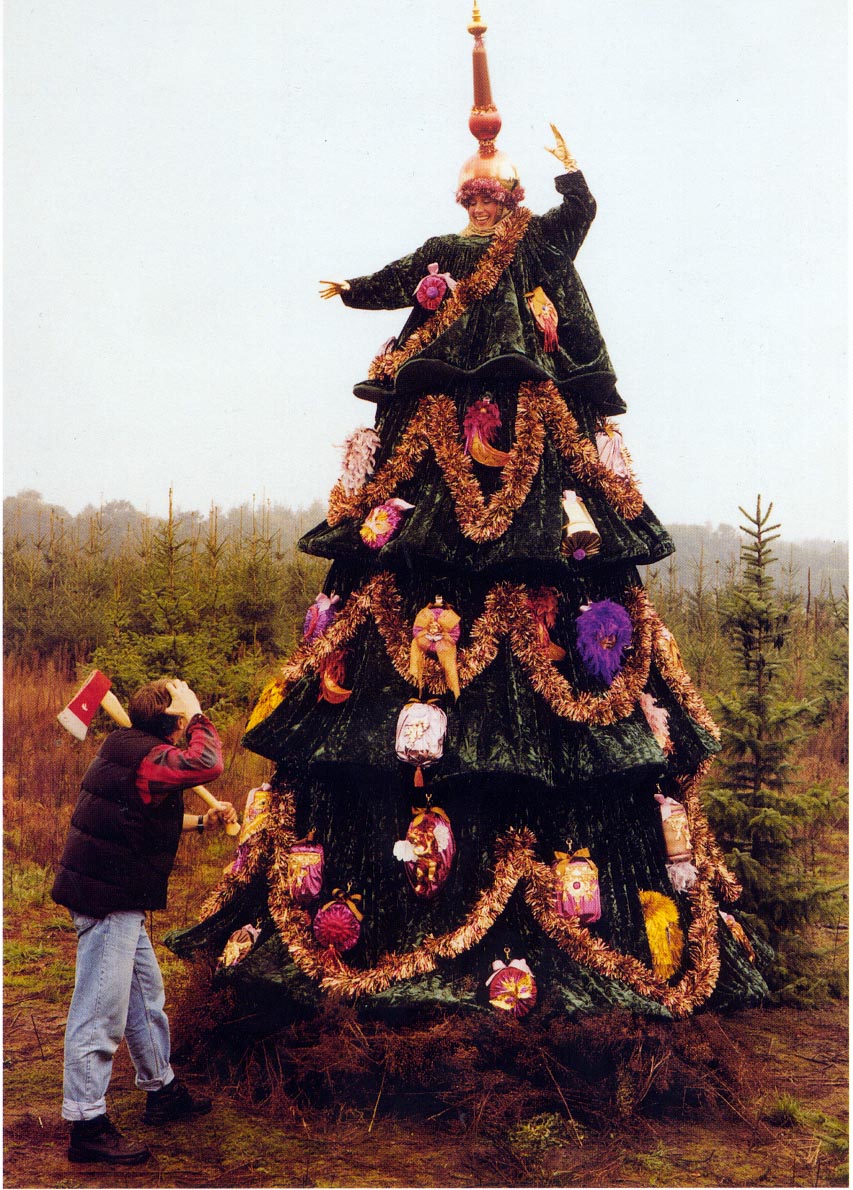 High Singing Christmas Tree
This impressive Christmas tree with a singer in top towers above people (4.75 meters!). The music and singing are beautiful. Playing time: 4 x 30 minutes in 4 hours, with high tree, technician and complete sound system.
The Christmas Funfare
A trio of well-trained and well-tempered Near-Santa Clauses march around. They play hip tunes, cheerful sounds and (un) recognizable Christmas melodies. They constantly surprise with strange walks and laughable dances. And lots of jokes and interaction with the amused audience. From 1 to 5 x 30 minutes in 1 to 5 hours.

Lodewijk van der Linden
As a singer / pianist, Lodewijk would like to liven up your Christmas party. He has a wide all-round repertoire that is supplemented with various Christmas songs for the occasion. If desired, Lodewijk can also make a round with his accordion. Playing time: 4 x 45 minutes in 4 hours (including beautiful electronic baby grand piano).
Santa Claus Walking Orchestra / Charles Dickens Orchestra
4-person Santa Claus Walking Orchestra with 4 x 45 minutes Christmas songs in 4 hours. The gentlemen are also available in Dickens outfit.
Singing Santa
Singing Santa sings 4 sets of 30 minutes English-language Christmas songs, amplified wirelessly. So in all possible places and movable. Moreover, guests can have their picture taken with him! 4 x 40 minutes in 4 hours.

Jazz panorama / Cheveré
Beautiful jazz sounds (Jazz panorama) or easy listening pop (Chevere with beautiful female singer) and Christmas repertoire.
Trio with 4 x 45 minutes in 4 hours.
Les Noëlles "Santa-style"
Les Noëlles are the perfect accompaniment to your Christmas dinner. The three Santa girls are an extraordinarily charming appearance and ensure that your guests can enjoy Christmas spheres in no time. The repertoire is sung "a capella" and covers a large part of the rich vocal Christmas oeuvre. A musical menu can be used from which guests can choose their preference: a classic or popular song, whether or not a Christmas carol.
3 players, playing time: 3 x 30 minutes.
Santa Claus bicycle orchestra
Where this surprising and hilarious music company appears on a 4-meter-long, 6-person tandem, it steals the hearts of the audience. Mouths fall open in amazement and a smile breaks through on many faces. Players: 6, playing time up to 3 x 45 or 4 x 30 minutes in a 4-hour session.
Dickens Troubadour on Stilts
The Dickens troubadour on stilts brings Christmas entertainment to a lonely height. 4 x 30 minutes in 4 hours.

The Musical Snow Woman
She plays beautiful Christmas and winter mood melodies on the flute and sings and can even make it snow locally when it is cold enough! During Christmas, her sled is decorated with a Christmas tree with candy for the little ones. Day part of 4 hours with 4 x 30 or 3 x 40 minutes
The Musical Christmas Angel
Our musical Christmas angel with song and music floats by with the most beautiful Christmas songs and melodies. Day part of 4 hours with 4 x 30 or 3 x 40 minutes.
Santa Singers
Are there 8 or 10 or 12? Dressed in their red Christmas outfit and scarves, the Santa Singers perform a varied program of English and American Christmas Songs as the happiest and most exuberant choir in the Most Wonderful Time of the Year. 4 x 30 minutes in 4 hours.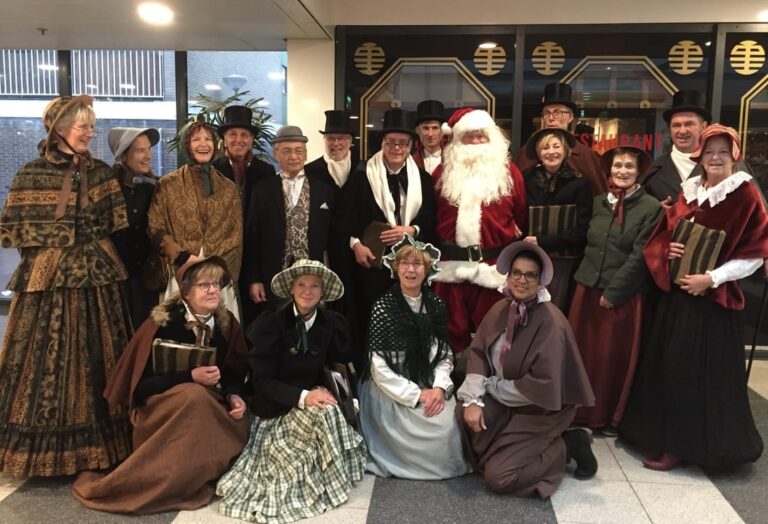 Dickens Passion
Passions Dickens choir sings atmospheric songs from the Netherlands and abroad with great pleasure and passion. Covered in authentic Dickens clothing, the Christmas choir quickly brings you Christmas Carols and other famous songs into the familiar, cozy and heart-warming Christmas atmosphere.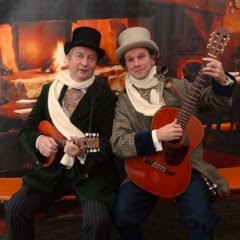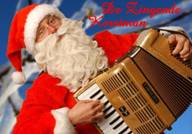 Winter guests
A chic duo, acoustic and mobile, for your classic winter music, but also with more than 50 popular Christmas carols.
Dickens Muse is stylishly costumed a la Dickens, cheerful moody and two-part and with an enormous repertoire of Christmas carols and winter songs. 1-4 players and from 2 to 4 x 40 minutes.


Santa's Delivery goes on the road for you for a surprise Christmas visit. Our artist creates a customised act and sings, poems or speaks your message and can deliver the Christmas present personally and charmingly to all employees at home. A beautifully costumed Dickensian singer, Father Christmas or angel? Solo or duo, lady or gentleman? Give us your wish – and we will still ensure a Merry Christmas!
Father Christmas
Father Christmas comes himself! With singing and accordion, he will play all known Christmas songs for you with 4 x 40 minutes in 4 hours.
Elf Orchestra
Could it be a bit more this Christmas? 18 musical green elves together in the nicest Elfen-Kerstorkest of the Netherlands: slightly different, nicely swinging and extensive Christmas repertoire, and with a fairytale price. Give them some space and it will also be Corona-proof!