In Stiltlife's stilts acts, singing, music, movement and mime come together. Stiltlife combines beauty with character, visual impact with humor and amazement with interactivity.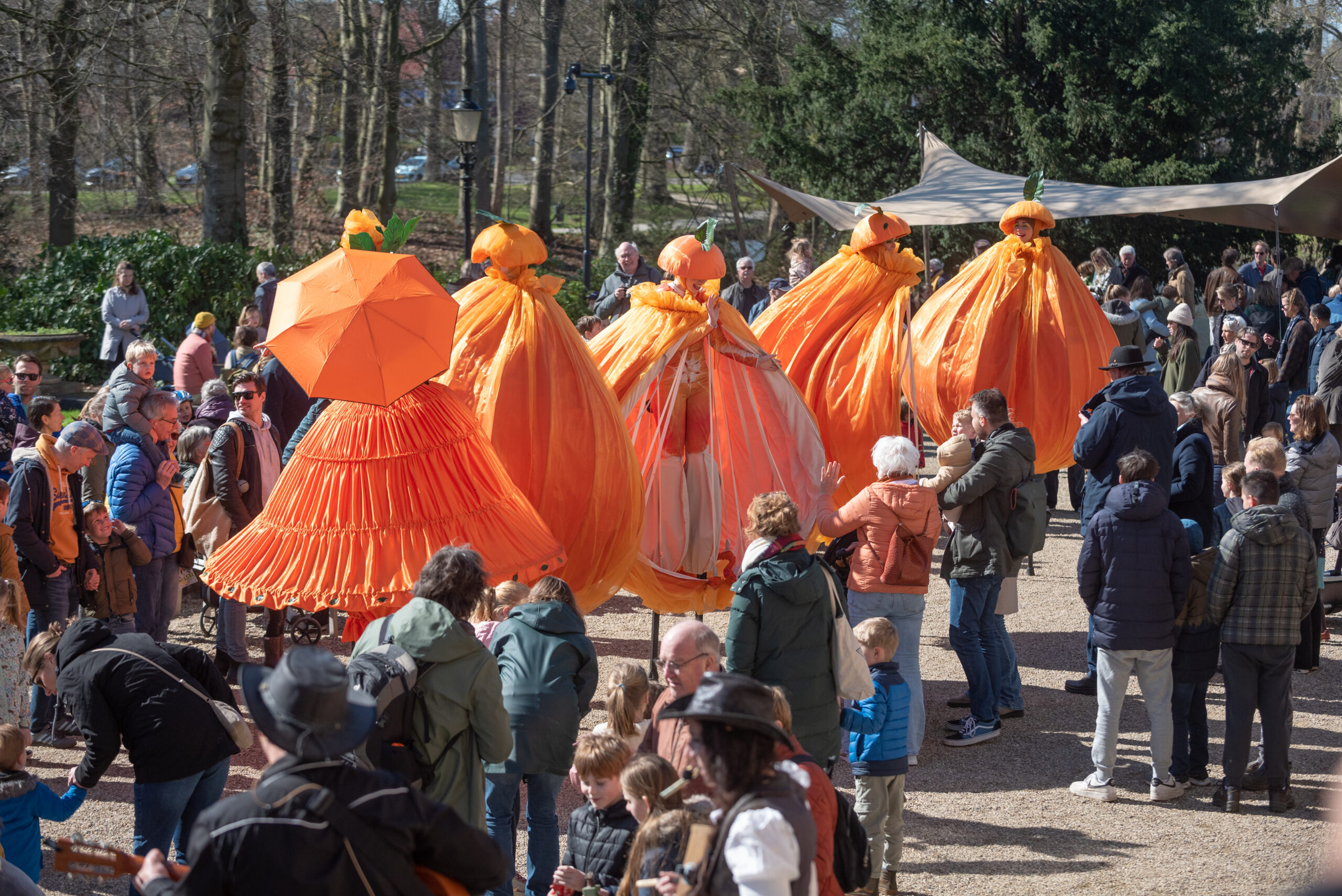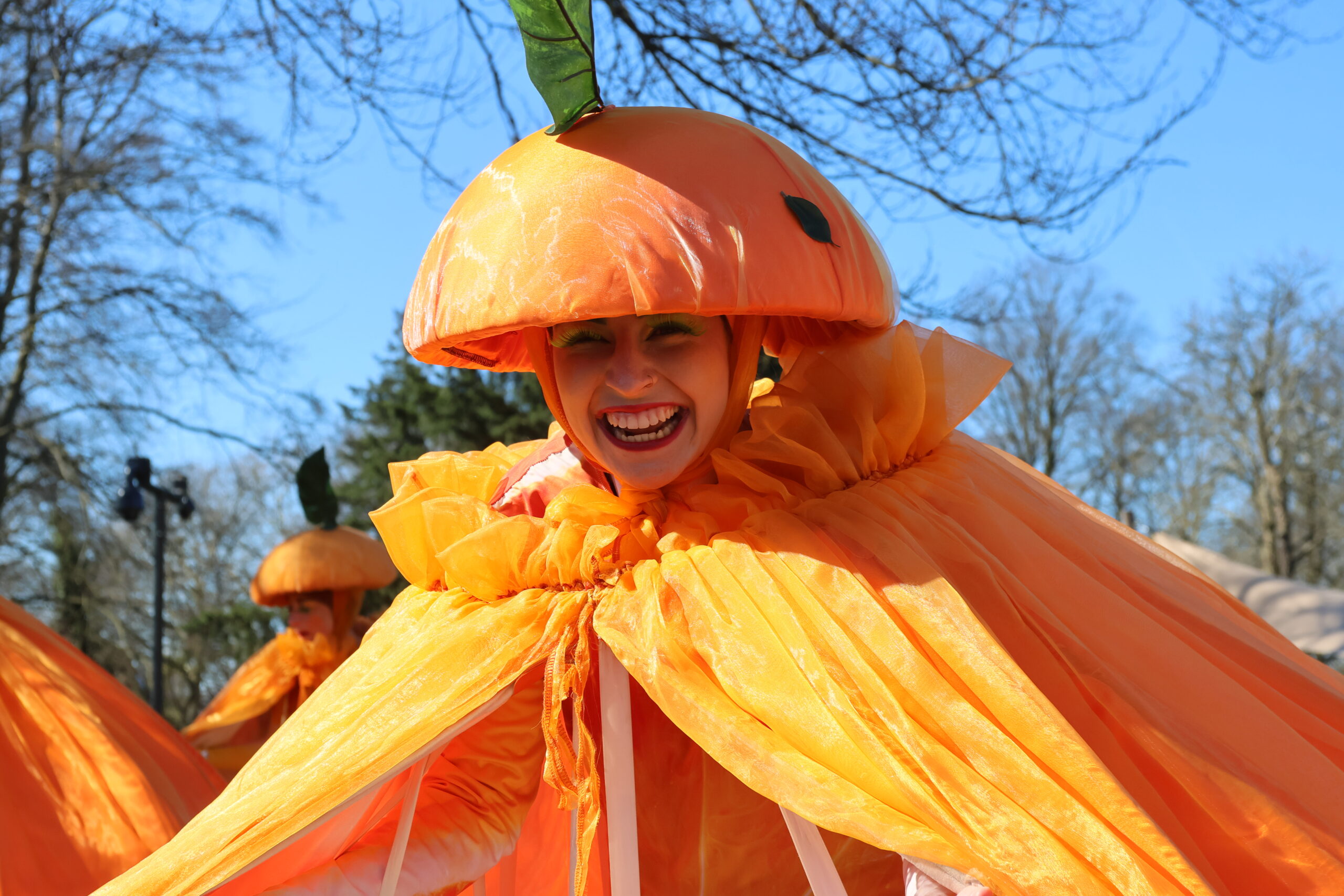 Photo 1 and 3 by Hans van der Lande. Photo 2 by Wim de Knegt
Naranja
Fresh, fruity, cheerful, sweet juicy and a tad sour, playfully naughty and seductively sensual, colorfully energetic and bulging with joy of play, festively scented with summer oranges, that is: Naranja!
The orange seller has put on her best dress, because today she has very special oranges on offer. She has two of her cultivation "Orange de Luxe" that she has worked on for centuries. The result is impressive: an orange variety of up to 1 m 70 cm in diameter! Who offers more? From the outside around a cheerful, but wait until it – once sold – opens its orange peel. Inside, this special crop surprises with the sensuality of supersized fruit!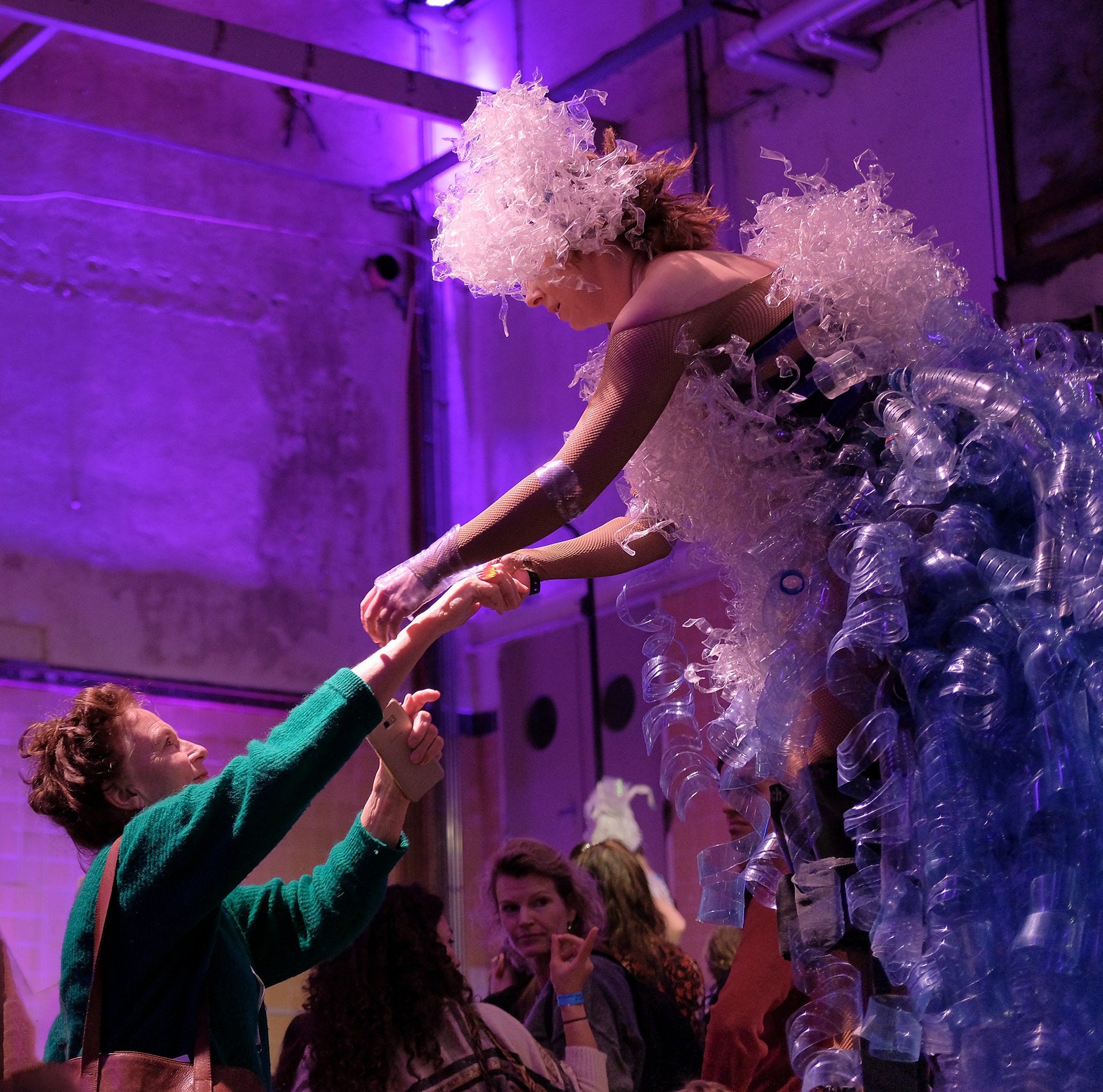 Plastic (not so) Fantastic
Two beautiful dancers, passionately dancing on high stilts and on the floor, dressed in fascinating, illuminated dresses by…. plastic bottles? Plastic is an indispensable part of our lives … it is fantastic and disastrous at the same time … it does not perish and is everywhere. But it is also too expensive to throw away carelessly. PLASTIC (not so) FANTASTIC invites you to touch the actors… or isn't it? A fascinating game of give and take between the (stilts) dancers and their audience.
DRUNK PUNCH LOVE – Something is not right here!
Beyond the shame? Then laughing and crying are close together.

Pay attention! Are you just looking for a nice decoration for your festival or event? Then don't let this trio come! But … do you like surprising theater with a double meaning and a good portion of comedy? Are you looking for interaction and emotion for your audience? And do you like it when people are put on the wrong track for a moment?

DRUNK PUNCH LOVE is a crazy running performance with an extra layer. Hilarious, direct and very interactive. Stilttheater that challenges the audience but also lovingly holds up a mirror. Just like life itself: sometimes very ugly and yet so beautiful! Surrender and dare to experience it.
The Re-Cyclists
The first truly sustainable entertainment in the Netherlands! Guaranteed energy neutral! The Re-Cyclists radiate unexpected beauty. Their startling costumes are made of what we carelessly throw away: beer cans, plastic bags, bicycle tires and even the inner tubes of tractors and trucks.
We hear them coming from afar with their swinging Re-Cycle Song as they wander around looking for rubbish. Each time they succeed in persuading the children and parents to participate in the cheerful Re-Cycle Afvalrace. Whoever wins is crowned the new Re-Cycle King or Queen and, drawn by the Re-Cyclists, makes a lap of honor on the mobile throne over the terrain. Brought to you with humor, they provide proof: Recycling is fun!

Child of Light
Just arrived on Earth is COL, CHILD of LIGHT, the brand new light princess from space.

An unparalleled high-tech LED-act as a mobile light performance and living artwork in one. It brings you light, joy, boundless amazement and an explosive light show packed with digital technology. After the finale, only her big heart remains blinking red.

First Prize in Techno-art 2016 (WAAH! Wearable Art Awards Holland) Audience Award 2016 (WAAH! Wearable Art Awards Holland).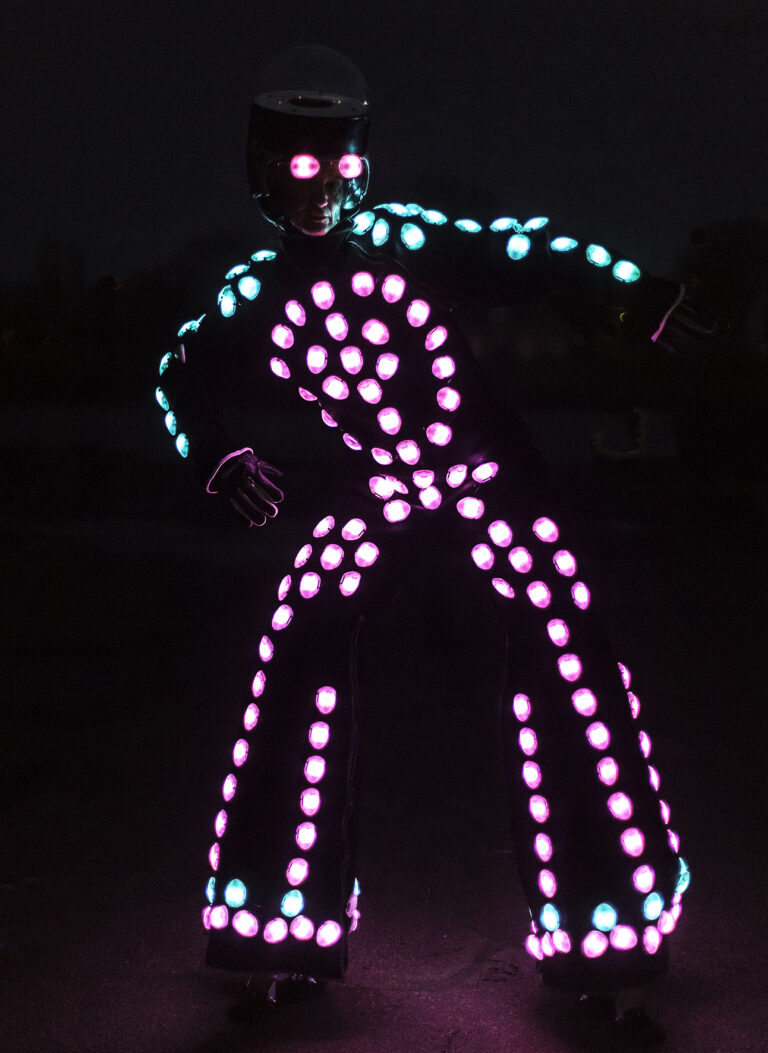 Guide of Light
The brand new Guide of Light is a high-tech walk-act, a mobile light-performance and an ever cheerful and naughty playing giant all rolled into one!

A source of light comes at you and suddenly shines in radiant blue. A giant with friendly beaming eyes. A light performance that culminates in a firework of flash lights to music. As you blink your eyes in the dark, only a red glowing, beating heart beckons you. The friendly giant shakes your hand and says, "good to see you!"

His name is SchnaKK, he comes from Pluto, and he is very curious about earthly people and loves the small version, all the children, to whom he talks in their own language.

The Guide of Light wears a costume with hundreds of LED lights, powered by a small computer in the giant's helmet. As friendly creatures, the lights cling tightly to his suit. Your wish, theme, color or atmosphere are all programmable. Spectacular technology – but ultimately it is about the boundless joy that the Guide of Light radiates. A sparkling act with WOW factor!

Guide of Light is a creation of Stiltlife and Spectro Productions in collaboration with. Brian Reardon and sponsored by Dutchband.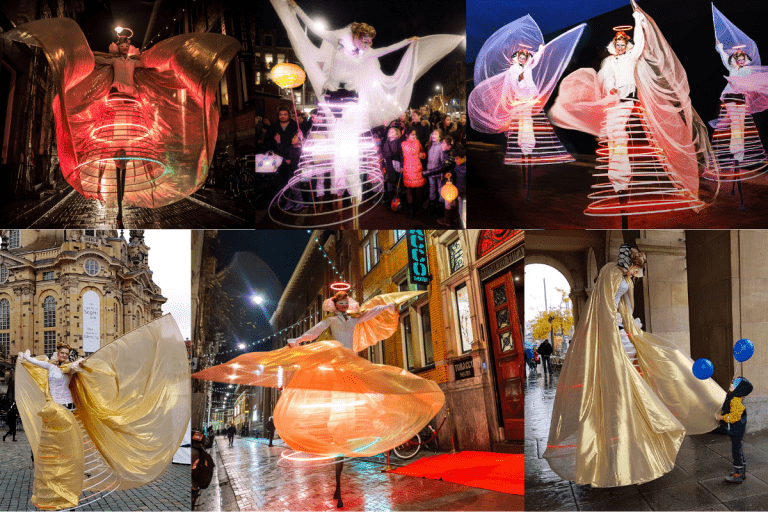 The bright Angel
The Angel sings a romantic song in a clear voice. It illuminates your streets and squares and your audience. With her spread out gossamer wings she moves almost timeless and floating, like an angel….! With a cheerful smile, she addresses your guests and if they unexpectedly end up under her wings, the Angel surprises them with her loving and cheerful message.

The Angel is wearing an illuminated costume that incorporates 10 meters of flexible LED lighting. She is already visible from afar. Her tulle veils light up, creating the impression of radiant mist. A stunningly poetic image.

The angel can be booked solo, duo or as a trio and in combination with a mobile sound system. Around Christmas with Christmas repertoire. There is also a golden Angel!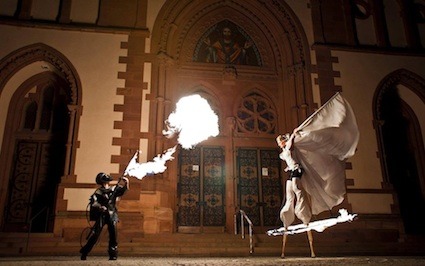 Angel & Demon
The Devil wanders at Christmas and in wintertime. And then… finally! He meets his flaming angel. Fire!! A devilish choreography and fluttering angel wings in a joyful, mobile spectacle fire act.
Prometheus – Fire walk act
Prometheus is tired, hungry, and freezing cold. He has searched the whole area for an eternity for fire for his burnt torch. He asks every passer-by. And then… finally! Fire!! But not nearly warm enough. Until Prometheus meets his flaming angel and gets wings.

A fiery choreography of fluttering wings spectacularly lit by hot fire. A joyful, fiery spectacle with goosebumps.

A special, never-before-seen fire act as a mobile act, as an intermezzo or as a spectacular opening or final act on music.